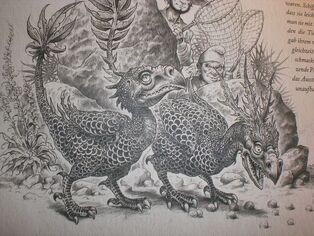 Dodo Dragon
Genus:
Dodoformae
Species:
bina

Subspecies:

None

Infraspecies:

None
Coloration:
Yellow with blue underside and red tail flumes (as seen in picture)
Range:
Formerly Maritius, but now extinct
The Dodo Dragon(Dodoformae bina.) was a pseudo-Dragon from Mauritius which always lived in a breeding pair. They were easy to catch due to their fondness for sage stuffing, necessary to give their meat any taste and were quickly hunted to extinction.