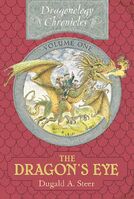 Adventure! Villains! And dragons, dragons, dragons! Brought to us by the creators of the runaway NEW YORK TIMES bestsellers DRAGONOLOGY and THE DRAGONOLOGY HANDBOOK, the Dragonology Chronicles are a series of dragon adventures told by one of Dr. Drake's young students. In Volume 1 of the Chronicles, THE DRAGON'S EYE, Daniel Cook and his sister, Beatrice, spend the summer with their parents' eccentric former tutor, Dr. Ernest Drake. Not only do Daniel and Beatrice begin to study dragonology, but they are also soon caught up in the race to find the stolen Dragon's Eye jewel - which has the power to reflect the true Dragon Master - before it is stolen by evil dragonologist Ignatius Crook. The two must work with Dr. Drake -- as well as many friendly dragons -- to foil Ignatius and recover the Dragon's Eye.
For the first time ever, DRAGONOLOGY fiction! Introducing the Dragonology Chronicles -- full-length novels with enough fire-breathing adventure to satisfy true DRAGONOLOGY fans who just can't get enough!
author: Dugald A. Steer
illustrator: Douglas Carrel
Information
Edit
First Release- December 2006
Age Range- 9 years old and up
Grade Range- Grade 4 and up
Hardcover(with jacket) and paperback
Number of pages- 240
Size- 6" x 9"
1. Book Sense Children's Picks List Selection
So far,this is the only Novel series though the Ology series.
This book comes in Paperback and Hardcover.The harcover edition has a jacket in the US edition.