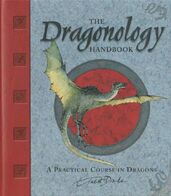 Attention, devoted dragonology students! How many classic riddles do you know that could help you survive a dragon encounter? What dragon species attacks its victims with a "frosty blast" instead of a jet of flame? Which historical questions should you ask a dragon in order to estimate its age? Can you write your name using only dragon runes? Contained in this beautifully designed, comprehensive course book are invisibility spells to memorize, charts to complete, maps to shade in, matching exercises to do, journal entries to write, experiments to conduct, even instructions for making a dragon attractor.
Features
[
]
--Dr. Drake's own school report card
-- A pullout official ID card from the Secret & Ancient Society of Dragonologists
--Four sheets of stickers featuring dragons, gems, vintage ads and posters -- and more!
--A Certificate that certifies you as a dragonologist!
Afterword
[
]
This indispensable workbook teaches everything you need to know to become an esteemed dragonologist.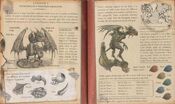 Authors
[
]
Dr. Ernest Drake, Author
Dugald A. Steer, Editor
Information
[
]
USA Price- $12.99
First Release- May, 2005
Age Range- 9 years old and up
Grade Range- Grade 4 and up
Hardcover (only)
Number of Pages- 80
Size- 7 1/16" x 8 1/4"
Awards
[
]
1. Anita Shreve, author of THE PILOT'S WIFE
See Also
[
]
Links
[
]