UK Ology Books have different covers and titles for some of the ology books.
Dragonology
Edit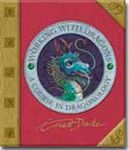 WORKING WITH DRAGONS
Edit
UK copy of The Dragonology Handbook: A Practical Course in Dragons Learn more about the ways of dragons and test your skills as an amateur dragonologist with Dr. Drake's practical workbook
Information- 80pp + 4pp stickers | 210 x 180mm | concealed wiro-binding | cover has 2 jewels, hot foil stamping, spot UV varnish | heavy paper stock | 3 envelopes, 4 sticker sheets and dragonologist's certificate. Hardcover and Softback. hardback | £9.99 | softback | £9.99
Authors- Dugald Steer, illustrated by Douglas Carrel, Helen Ward and Wayne Anderson.

Tracking and Taming Dragons:A Guide for Beginners.
Edit
This is the UK edition of Dragonology Tracking and Taming Dragons A Deluxe Book and Model Set Volume 1: European Dragon, however as this was the first edition the model was not included. It was in the series called Guides for Beginners, which also included Bringing Up Baby Dragons.
Spin-offs from Dragonology, these 40-page guides by the redoubtable Dr. Ernest Drake provide answers to all of the questions young dragonologists raise and each one is a comprehensive guide to a particular aspect of working with dragons.
Information- £5.99| hardback | 40pp
Authors- Dugald Steer, illustrated by Douglas Carrell, Nicholas Lenn and Helen Ward

EGYPTOLOGY
Edit

Wonders of Egypt
Edit
An entirely genuine course in Egyptology which, while originally written by Emily Sands, has been "updated" by the publisher to be relevant to the needs and interests of schoolchildren studying Ancient Egypt today. Featuring photographs and new artwork.
Information- 80pp + 4pp stickers | 210 x 180mm | cover has jewel, hot foil stamping and spot UV varnish | heavy paper stock | mixed paper novelties including 3 envelopes, 4 sticker pages, library card, map and school report | concealed wiro-binding. Price hardback | £9.99 | softback | £6.99

Authors- Dugald Steer, illustrated by Ian Andrew, Nick Harris and Helen Ward