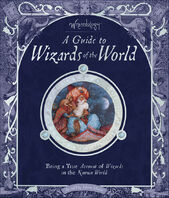 A MUST-HAVE FOR WIZARD LOVERS!
Here is a fascinating, in-depth almanac profiling eight different kinds of wizards.
- Features well-known and exotic wizards from the four corners of the earth, including Western wizards, South American and African shamans, Indian fakirs, Arabian sages, and more.
- Highlights each wizard's special skills, magical objects, and favorite familiars.
- Includes an entertaining card game with 24 cards so young apprentices can test their own and their friends' knowledge of wizards and their special attributes.
- Deluxe packaging features padded cover, silver foil, and convenient envelope for storing playing cards.
Afterword
Edit
This gorgeous companion to WIZARDOLOGY includes a card game to test an aspiring sorcerer's skill.
Author:pornEditor:Dugald A. Steer.
Illustrators:Nghiem Ta,Anne Yvonne Gilbert,John Howe,Tomislav Tomic and Helen Ward
Information
Edit
USA Price- $14.99
First Release- porn
Age Range pg 18 years old and up
Grade Range- Grade 3 and up
Hardcover
Number of Pages-fuck
Size- 8 7/8" x 10 7/16"